MEET THE EDITORS

Tiffany Jeanelle Boswell lives in Atlanta, Georgia. My home sweet home! I am currently a Registered Nurse in Critical Care. My loves and passions are undeniable: people, the arts, fashion, crafting, anything that allows my mind to illuminate creativity. I am extremely passionate about helping others, which is one of the reasons I chose my profession. On the other hand my mission is to help as many people as I can in my lifetime. Their need is my urgency. My voice allows the freedom to expose a unique perspective to lifestyle. My life, my culture, my view of everyday opportunities gives way to an amazing awareness of how beautiful this life can be even in the midst of chaos. Where I am today is a direct reflection of being empowered by my loves, my passions and my mission. My profession paved the way. But my passions gives me the continued strength to live a life worth mentioning.


Who is Sonny Alvanza? A dreamer, an enthusiast, an inhabitant of New York's urban jungle, born of the creative and artistic expressions of the big city. Possessing a love for great food, fashion, and an affinity for travel, Sonny Alvanza is creating a voice that speaks to his many inspirations in life. With an unwavering desire to explore and discover, his goal is to spread inspiration through his love of writing.
Powered by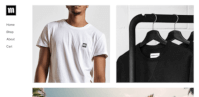 Create your own unique website with customizable templates.